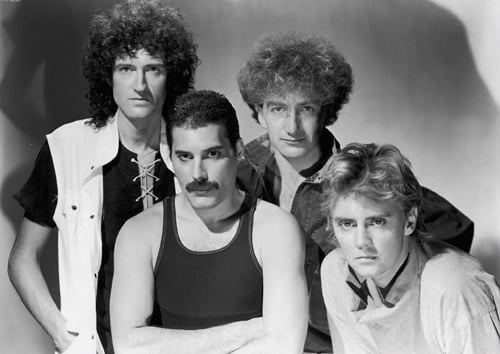 When I was home last weekend I spent a lot of time on the couch with my Dad watching the Biography channel. He had saved a few specials worth watching and well one of them completely blew me away and has sent me in a tizzy ever since.
It was called Queen: Days of our Lives and if you ever see it coming across your television I HIGHLY recommend you take the two hours and watch. It basically tracked the band from its early days in England to its triumphant run though the United States and then back to England and finally to Freddie Mercury's death. Easily one of the best band biographies I have ever watched. And well I don't know about you but I had no idea about the caliber of this band. Did I know they were great? Yes. Did I love their songs already? Yup. But did I understand that everything all those harmonies came out of four voices? No. Did I understand how far they were pushing the limits of the music industry when they were out? Nope.
This band was the real deal, and well Freddie. Well Freddie was one of a kind. My Dad and I had the discussion of the 'greatest front men of all time' and I was quick to say that Jagger had the crown but then followed with "I do believe if Freddie had more time he would easily take the crown". And that's exactly how I feel. I really hope that the day that I die that he is there to welcome me with a vocal jam. His voice is unlike anything I have ever heard. His presence is that of a true legend. Again I just can't imagine if he wasn't taken so early from this planet.
Do yourself a favor and youtube some of the Wembley Stadium performances. Take some time today to realize how great this band was. And if you do have the Biography Channel do a search tonight and find this special. You will not be sorry!
Here are two of my favorite videos:
The first is called "The 20 Minutes that Changed Music" and it was from their Live Aid performance. No words to describe the fire they set on that stage that day...

...and finally here is a teaser clip from the biography... the making of "Somebody to Love"