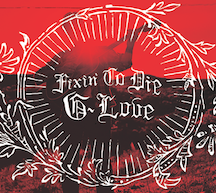 G. Love. I feel like I haven't talked about you since High School. Oh well... here it goes again.
I used to love this man. He was just the style I loved during my days back at Morristown High School. I knew the words, I sang the songs, then I went and was introduced to a lot well I'll say it better music and I smartened up.
Well it looks like G. Love has caught back up because well our paths are crossing again. For his latest album - Set to be released at the end of February, he teams up with one of my favorite brother combo - Scott and Seth Avett. And now after hearing the first few tracks, I'm pretty darn excited for this album.
Check out the collaboration. It works pretty well!