This could be one of my favorite posts in a really long time. I read the article on HP today and well... it just was perfect. Not because I love every single one of these bands. But its important to remember these rock and roll legends for who they are. Bad Ass Rockers. So yes this post will be long and filled with loving words for my heroes....
"The 10 Bands That Shook the World"
Here we go! (And no these are in no particular order...I couldn't do it).
The original article can be found HERE.
Beach Boys- Their masterpiece Pet Sounds is considered by most experts to be one of the best albums of all time, with George Martin being quoted as saying "Pepper was an attempt to equal Pet Sounds."
Beatles - These guys had such a big impact that they basically started a social revolution that embodied the 1960s. Nothing was ever the same in popular music or culture after the Beatles entered the scene. They also have more "100 Year" songs then anyone else so far meaning... songs that people will be listening to well into the next century. Isn't that true!
Doors -
They had the complete package: musicianship, lyrics, songs and stage presence. And Morrison was a great singer. They also popularized the organ as a lead instrument for the first time in rock.
Although they attained huge success, many of The Doors singles were unconventional such as anti-war songs like "Unknown Soldier" and "Touch Me," a top 40 single which concluded with a 45 second sax solo.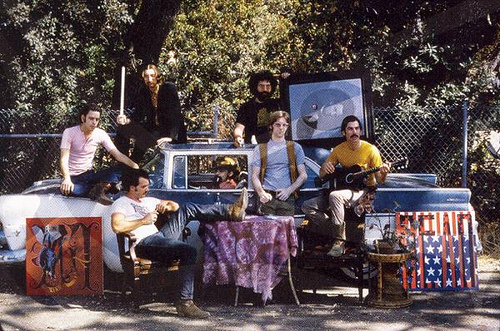 They were the first jam band and they inspired fans to cross the country to hear their lengthy shows with sets that would vary from night to night with spontaneity and improvisation.
Led by Jerry Garcia, this eclectic band of musicians never followed a formula and their success was based on an authentic, American sound that was original and often all over the place
.
Bill Graham said of the Grateful Dead,
"They're not the best at what they do, they're the only ones that do what they do."
Led Zeppelin -
Plant, Page, Jones, and arguably the best rock drummer of all time, John Bonham, exploded on the scene with probably the best debut album ever, with "Good Times Bad Times," "Dazed and Confused," "Babe I'm Going to Leave You"... Zeppelin toured endlessly and became one of the best live bands ever with the musicians improvising their songs and the shows lasting more than four hours.
Never loved by the critics, Led Zeppelin was always underestimated in their originality as well their ability to embrace different musical forms and styles. Today they are now widely seen as one of the most important bands of all time
Nirvana -
The only band since the 90's to have a far reaching and lasting influence. Emerging during the hair band craze, one of the worst creative eras in rock history, Nirvana's explosive, raw and uncompromising sound and lyrics brought a return to the late 60's...when playing, not how you looked, mattered. And the grunge scene was born.
Nirvana's time was short but their explosive talent and originality, combined with a major influence on every rock band since the early 90's make them a band for the ages.
Pink Floyd -
The most experimental and progressive band to ever emerge from the rock scene and reach a worldwide audience. Their originality and artistic ambitions defied the rock form and created a musical lane all to themselves. F
ollowing several successful albums in the UK, in 1973 they released
Dark Side of the Moon
, a CD so monumental and popular that it remained on the U.S. charts for 14 continuous years. Yes 14 years!!!
Rolling Stones -
One of the greatest rock n roll bands of all time, Mick and Keith became extraordinary songwriters as the group evolved away from covers into crafting their own sound.
The Stones creative growth showed in both their music and songwriting, exemplified by the musical diversity of "Satisfaction," "Paint it Black" and "Ruby Tuesday."
The Stones were always about sex and pushing the limits. In contrast to the Beatles, they were dark and dangerous. Their lyrics, album covers and live performances were anything but safe.
They have influenced almost every rock band since and their songs are some of the best ever recorded.
U2 -
Led by the amazing Bono, Edge's sweeping and original guitar sound and the fine rhythm section of Clayton and Mullen, U2 became the biggest band in the world.
Drawing inspiration from early punk, they moved on to incorporate and experiment with dance, electronic, alternative rock, blues, r&b and synthesizers.
And like The Who before them, U2 wrote songs about things that were important and resonated with their audience...religion and faith, strife in Northern Ireland, Martin Luther King, political revolution in Eastern Europe, relationships with friends and family. U2 continues to be an important and groundbreaking band today with their compelling new music, innovative partnerships with companies like Apple and their current 360 tour.
The Who -
Unlike most British bands, The Who was not blues based. They were completely original, explosive live, yielded unpredictable power, wrote great lyrics, and have been referred to by some as the "Godfathers of punk"...absolutely authentic.
From their unforgettable debut with "My Generation" to "I Can See For Miles," Townshend, Daltrey, Entwhistle and Moon moved into conceptual albums culminating with the first rock opera and masterpiece
Tommy
, which blew every other band away.
Performances at Monterey and Woodstock introduced the American audience to their amazing live shows and propensity to destroy their instruments. At their creative peak, the band delivered the best four records ever in a row from a band not named the Beatles...
Tommy
,
Live at Leeds
(widely acknowledged as the best live album of all time),
Who's Next
and
Quadrophenia
. They certainly go down as one of the best live bands to ever play live.