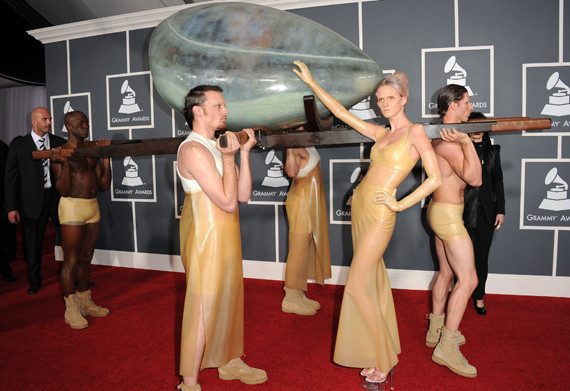 Okay here goes nothing.
Last night I sat down to watch live the 2011 Grammy Awards. In previous years, I have been very disappointed in this award show. Giving awards to non-talented acts, performances that were terrible (I'm looking at you Jamiee Fox from last year) and well its usually an award show that is greeted with a laugh by the people who actually know music.
Well I'm happy to say that the award show last night pleasantly surprised me. Was it ridiculous? Yup. Did some performances suck? Yup. But for the most part people with talent won. A few performances stand out this morning as head and heals above the rest. And sanity was finally restored when Arcade Fire took home the top prize for Album of the Year after MGMT got robbed last year.
Okay that being said here is my ridiculously long, hopefully entertaining recap of what I was thinking during the entire show last night.
(Notes..I watched it all the while texting with my Dad and Brother about the ridiculousness everyone was seeing, so their comments will appear as well...)
Pre-Show: Awards given before Red Carpet even started.
-Some big names took the cake here. Best rap song went to Jay-Z "Empire State of Mind". Alternative Album went to The Black Keys "Brothers" R&B Album went to John Legend and the Roots. Biggest winner here was the Black Keys. Seriously people if you don't have this album what are you doing!
Red Carpet:
-Pre-red carpet predictions included: "what will be this years Jamie Foxx performance... my guess Beiber/Jaden Smith Duet". My little brother professing his love for all things Beiber. And my profession that I think that Mumford & Sons and Arcade Fire would win big.
-
Lady Gaga
- I guess I should start by addressing the picture at the top of this post. Yes that is Lady Gaga in an egg being carried into the Grammys. I'll wait as you process that.... I have seen a lot of red carpet tricks in my 28 years but nothing like this last night. Gaga was literally "incubating" before her performance and well it was fantastic. More on performance later....
-Rihanna - What the hell are you thinking girl. I get it. Your body rocks. You're talented. You have collaborated with some of my favorite songs ever. But why do you have to wear this? (see left) Way to leave absolutely nothing to the imagination.
-Jamie Foxx - You can't have an award show without some Jamie Foxx ridiculousness. On the red carpet last night he spouted this gem: "I don't keep my grammys and my oscar inside my house...I have people who come over who don't even have social security numbers" Way to keep it classy Jamie.
Nicki Minaj - The red carpet would not be complete without some fierceness from the "poor mans Gaga" Ms. Nicki Minaj who came with well... I don't even know how to describe this in words. I'll just put it in picture form.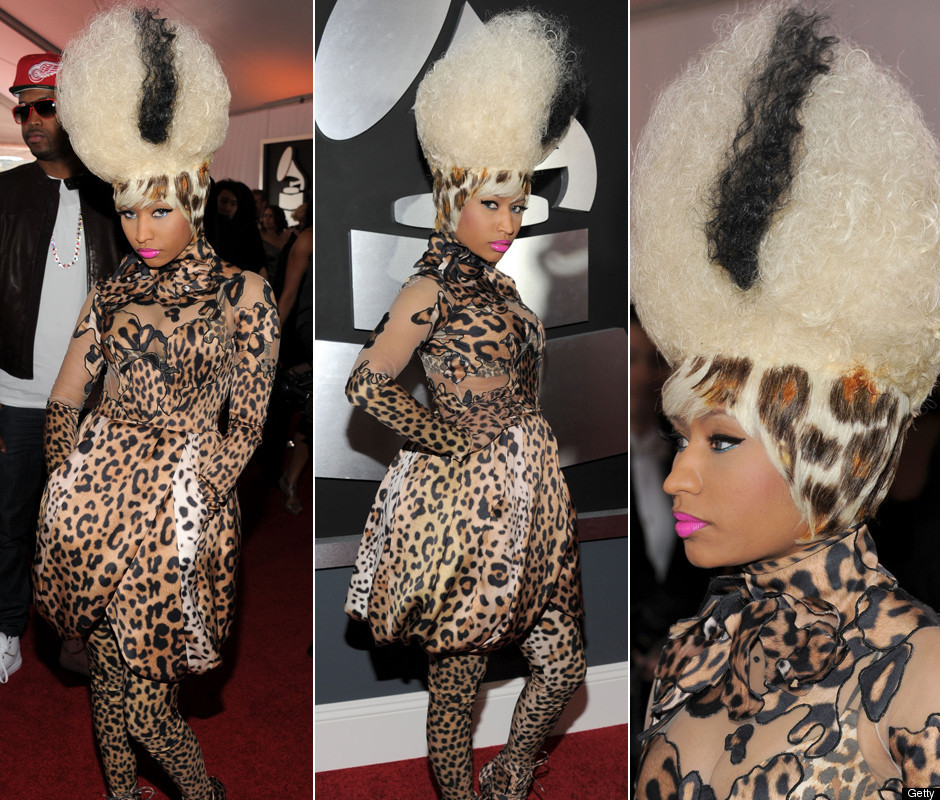 Okay well that was the red carpet. Its about 8pm now and ready to go in for the live show. Again, I feel really terrible for the lucky lad who sits behind Nicki Minaj. Just sayin...I'd be pissed.
Okay the awards are starting everyone take their seats!!!
Aretha Tribute: Now this is a way to kick off the show. Five superstars Yolanda Adams, Martina McBride, Christina Aguleria, Jennifer Hudson and Florence Welch took to the stage to sing a love letter to one of the greatest singers of all time. Best parts went easily to Jennifer and Florence who sang their parts effortlessly and brilliantly. Bravo! Way to bring it! Well that was until Christina fell walking off.. I'm telling you 2011 is just not her year...
- Next...flash to a shot of Justin Bieber in the first row... I only noticed this because my little brother pointed it out that "it will be Biebers night" I felt sad correcting him...so I let him go for a little.
-First Award went to the band Train (who was famous when I was in middle school) and that STUPID song...Hey Soul sister...Maybe now people will stop using it in commercials. Probably not. Ugh. But they did make a funny thanking Bieber for not being in this category... and the Beiber curse is set.
-Ricky Martin wearing silver Jeggins. Yes Jean-leggings in silver comes across my tv to introduce Lady Gaga. Wait...what is happening...is she hatching? Okay I'll give it to her for this performance. Very Madonnaish (but I think its on purpose...) and well come on people who else can make an organ solo sound so badass? Or as Rick says at that point "BOOM! So Great!"
So after our short Lady Gaga text message battle where we just could not believe what we were seeing my brother sent me the text of the night. Mind you my brother is 100% a straight man who loves football and cold beer, but for some reason has a huge love for pop music. HUGE.
Rick: "I think I was a gay backup dancer for a pop star in a previous night"
As Rick were to say...Boom. My night was complete.
Moving forward.
Next was time for my bathroom break/make food/catch up on sleep time as the country music portion of the night came on. I do not care for country music. I do not like it. And well....I'm allowed. NEXT! Rick reedems his masculinity with "This chick is hot" during the country performance. I laugh...while my ears still are burning.
Next is time for some real rock. Muse takes the stage for some real rock and my Dad finally woke up. "These guys are pretty good" read the text from him during their performance. I explain that they are a big stadium rock band who made it big in Europe before the U.S. The performances finishes and they deservingly then nab the Rock- Album of the Year Grammy. Conversation quickly turns to "How did this dude get Kate Hudson pregnant...". Ha. The men in my family never seem to fail me when it comes to one liners. More from Dad later... Anyways Muse ends on a high note. They play kick ass music that like Rick says "I want to go start a riot". Thats rock.
Next is a trio of young stars. Bruno Mars, B.O.B. and a girl that I have wrote about numerous times here...Janelle Monae. I dont really care too much for the first two but Janelle. Whoa. Girl you showed up last night. Way to show those boys who is boss. Video is worth the watch. Especially the stage dive! Oh and one more reason to love this girl. She has stated before "I wear black and white to represent the working class people like her family is". You deserved this stage last night!

-Next is followed with more country music awards. Blah. Rick is loving all the blonde chicks...I again am clawing my eyes out. My Dad on the other hand is making some great crowd observations.."Theres Cyndi Lauper..Met her in the Myrtle Beach Airport"... ha! This is also followed by the shocking realization of my father that he has just found out that they only give out 10 awards during the entire telecast. He seems a bit confused that "nobody actually cares about the awards...the Grammys is now a two hour shit show of performances". I think we may have lost him a little at this point.


Next Rick wet himself a little bit when Justin Bieber was announced. For his sake I will not elaborate on this performance. All I will say is at one point Will Smiths kid came out in leopard pants and started rapping. I won't say it was terrible....but well.... lets just say it proved why exactly the kid went home with the big goose egg for awards. Rick still sticks to his "mini Timberlake" prediction. I stay silent.
That and watching Usher try to ride this kids coattails into another comeback was well...sad.
Next!
Next the pop vocal album is announced and it well deservingly goes to Lady Gaga. Say what you will about this girl but you can't go anywhere in the last two years without hearing her songs. And all those songs came off of one album. The Fame Monster. Yup. Deserved this award.
I pause for a moment to tell you again how much I hate the Subway "Five Dollar Foot Long" commercials with every part of my soul. The song is now stuck in my head for the next six weeks... dang. Moving forward.
Performance of the Night: David Letterman introduced two of my favorite in Avett Brothers and Mumford and Sons and suddenly all the people who tuned in to see Bieber, Gaga and Rihanna are really really confused by the number of banjos and beards on the stage right now. These bands deserve to be heard, and this is their biggest exposure to date. Cut to me dancing around my living room, screaming. It was the highlight of my night... then the corpse of Bob Dylan came out and ruined it. But for the first six minutes it was amazing!!!
And as my brother eliquently put it...."Well Bob was never really known for his voice". True brother true.
Either way check out my blog post earlier for video of this amazing performance. Do it!
Next up big crossover winners of the night Lady Antebellum and their song "Need You Now". Okay, you guys get it by now I hate country music. BUT I will say this, I am quite impressed on how this group was able to cross from country to pop and nab song of the year. Now for everyone out there today who is crying that Eminem didn't win this award. Tell me one person who doesn't know this song above. Its everywhere! Every radio station, every tv show, every movie, every where you turn!! Of course they deserve song of the year. And thats about as good you will hear me talk about country artists.
Next was time for
Cee-Lo Green
to turn the award show on his head with his 2010 hit "Fuck You" or now renamed "Forget You". This will get both a picture and a video because there is no way that I can describe it better than a video. Although I will try.
Okay so my man came out in full homage to Elton John with the feathered peacock suit. And just like Elton before him he had the backup of The Muppets to help him out! Thats right...the old school hand puppet Muppets. Amazing!
Everything was great perfect amazing. Then Gweneth Paltrow came out and well. Ruined it. I'm sorry. I don't care if Gweneth can sing or not. Stay home. I do not need to see you in a black jump suit crawling on the piano like a 16 year old. It was gross. Yes she didn't sound terrible...but I just didn't get it. Or the earings. That was my opinion. Also it prompted many funny jokes between my brother and I...that she should have "Stayed in the Box"....Alas the movie Seven.... "Whats in the box!?! Whats in the box". Terrible DeMaio humor. Here is the performance.
Okay...I promise its almost over.
Neil Patrick Harris came out next to introduce Katy Perry. While I didn't care too much for this performance, Rick on the other hand watched intently..."hoping for a wardrobe malfunction". There is the 26 year old brother that I know and love. Her performance was boring... expected more from someone who sings songs where flames shoot out of her boobs like in "Firework".
Next is more awards including lifetime achivement awards to Dolly Parton complete with a suprise performance by Nora Jones, John Mayer and Keith Urban. Other than John looking like a poor mans Depp they all sounded great and fantastic...oh and how adorable is Nora Jones? I remember this award show a few years back when she took basically every single award home. Good to see her back.
Moment of the Night: Seth Rogan comes on stage to say he has just finished smoking pot with Miley Cyrus backstage. I laugh probably too hard. The crowd is uncomfortable. Oh, I love award shows. He introduces Eminem and Rihanna who literally burned the stage down. Its been 10 years now I've been listening to Eminem and he gets hotter every year. Seriously.... hes on fire!
Award of the Night: Best New Artist.
I stated to everyone who would listen before this show that if Justin Bieber walked away with this prize I would turn off the show in protest and vow to never watch again. Not because I hate the kid, his music is just not good, and there are way too many talented people who could win this award. For example, I was pulling for either Florence and the Machine or Mumford and Sons to win...but was pleasantly surprised when Esperanza Spalding (above) took home the award in the upset of the night. For everyone who doesn't know about her, I wrote about her last spring. She is a double bass playing jazz badass who is inspiring musicians all across the world with her inspiring play.
Check out her performance at the White House from late 2010.
They take us next to a musical montage of all the artists we had lost this year....and man did we lose some greats. In tribute the man himself. Mick Jagger came out for his first ever Grammy performance and well it was stellar. The mans still got it. Need proof check out this facial expression. He gets the biggest cheer of the night...
Next is a big award...Rap Album of the Year. Could go to anyone but Eminem is clearly the front runner and takes the award down easily. He makes a nice reference to Detroit in his speech...and still looks good. Great comeback Em.
Next is time for Rihannas solo performance with Drake and well...all I will say is that she forgot that kids may be watching. The pictures tell the story.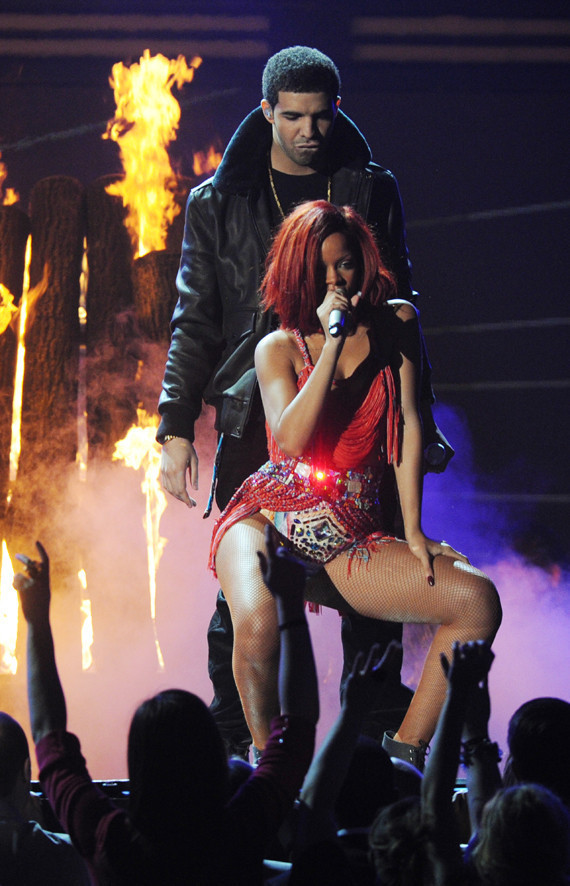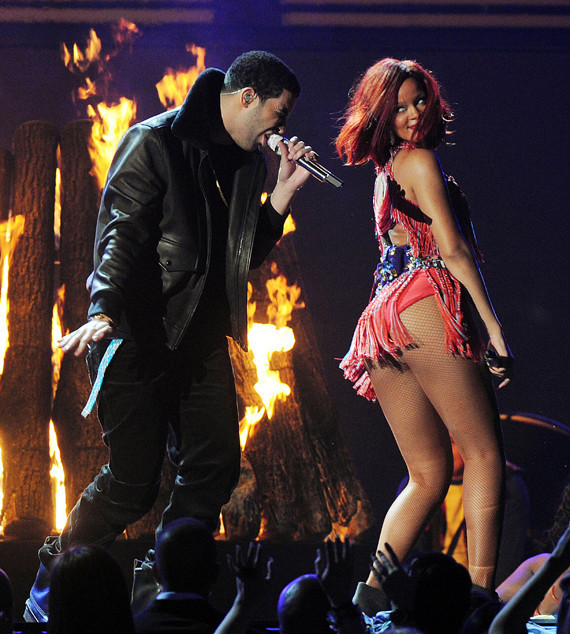 Whoops.
And finally it was time for the final performance of the night. Arcade Fire took to the stage, blinding the crowd with their lights and overpowering rock sound. Great choice for closers by the Grammys. They really showed the best of best of music this year. And why would I say that.... oh yeah thats right. Right after their performance they took home ALBUM OF THE YEAR. Which caused me to run around my house cheering yet again and caused my brother to put his foot through his tv in disgust. ha. What a difference a few years makes....He was upset that Eminem didn't win and I was happy that good music finally won out.
Could it be the insanity that has been the Grammys for the last few years has been restored to normal? Good people won. Performances were pretty on point. I give it a good 8 out of 10. And after last years 3 out of 10. Big improvement. BIG!
And I'm signing off.