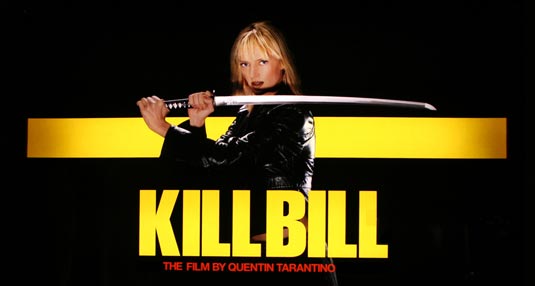 Well I guess its just soundtrack week around here, yesterday "Into the Wild" today..."Kill Bill Vol 1 and 2". Why? Because this weekend in NJ they were playing on repeat and I watched both movies... twice. Like I have many, many times before. These two are two of my favorite movies of all time... why? I think the question is more of a why not!
The soundtrack is one of the most amazing things that I have ever heard (mostly produced and orchestrated by RZA and the 'Wu-Tang Clan" . Visually the movies are stunning and the story... ha well the story is completely out of this world. Everything lines up perfectly in these two films, I still think that Tarantino deserved the Oscar.
Here is the short story:
"The lead character, called "the Bride" was a member of the Deadly Viper Assassination squad lead by her lover 'Bill'. Upon realizing she was pregnant with Bill's child, she decides to escape her life as a killer. She fled to Texas, met a young man, and on the day of their wedding was gunned down by a jealous and angry bill (will assistance from the Deadly Viper Assassination squad). Four years later, 'The Bride' wakes from a coma and discovers her baby is gone. She, then, decides to seek revenge upon the five people who destroyed her life and killed her baby. The story of Kill Bill begins..."
if you have yet to see these movies, please stop what your doing and rent them. thank you.
Moving forward.... here is the trailer. I will be focusing on the soundtrack later.